Meet the Team: Ed Williams
Meet our team member of the week, Ed Williams!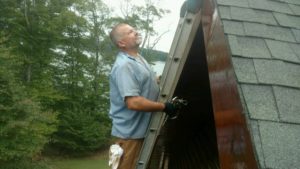 Originally from Onancock, Virginia, Ed moved to the Shenandoah Valley 22 years ago and is currently enjoying his 7th season at Squeeky Clean. His hometown, on the Eastern Shore of Virginia, only has about 200 people and he was initially worried that moving to a "bigger" small town in Bridgewater would be a tough adjustment. However, Ed's love for being a part of a close knit community allowed him to easily fall in love with the area's hometown feel.
Ed was initially introduced to Squeeky Clean by a friend from church who had always been an avid supporter of Squeeky Clean. Ed's friend served as the middle man and introduced Dan and Ed after hearing of the new job opportunities with Squeeky Clean. From there, it was history. Ed's favorite thing about working for Squeeky Clean is the sense of accomplishment and joy he feels from seeing a homeowner view his hard work with bewilderment at the difference his labor efforts make.
Being burdened at a young age to leave school to take care of his family, Ed has a heart of gold and is no stranger to hard work and an intense drive to help others. Whether he's restoring a log home, washing a house, cleaning a roof, or helping the sun shine better and brighter into your home, Ed takes pride in each and every job he finishes. If Ed had to choose only one service to have done by Squeeky Clean he would chose the softwash house washing. He believes it is the best and most affordable way to dramatically enhance the curb appeal of your home.
When Ed is not working on making homes beautiful, he loves spending time with his wife, Lisa, and their four incredible grandkids. Ed and Lisa are the full time caregivers for two of their grandkids and love being the best Mimi and Poppop they can be.
"Ed has been with me since the beginning…. For the longest time, it was just Ed and I serving our customers. Thanks to his tireless dedication to service, and his unflinching attraction to quality work, we have been able to grow our company into what it is today. Nobody builds anything great alone, and I am delighted to watch Ed grow into one of the many lynchpins of Squeeky Clean."
-Dan Link, founder of Squeeky Clean, LLC.